Why a career at KEMI?
Why not? Ask most KEMI employees and they will tell you they never considered a career in the insurance industry! Odds are, if you join us, you will love the KEMI family and culture. In fact, our average tenure is over ten years.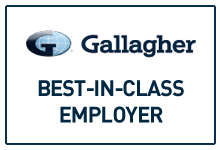 KEMI is proud of our culture where employees are challenged to be creative, innovative, expand their knowledge and have fun. Members of the KEMI family treat each other with dignity, empathy and respect. We provide an environment that encourages communication, teamwork, collaboration, and volunteer service. KEMI rewards performance and goal achievement. We work hard, but we also enjoy celebrating our successes and gathering for special events – inside and outside the office.
We look for cultural additions to bring diverse thought, education and experiences to the KEMI family. KEMI is an equal opportunity employer in search of qualified and motivated individuals driven to make workers' comp work in the Commonwealth.
If you are interested in joining the KEMI family, we would love for you to apply. Explore our current openings and if you do not see a position that fits your profile, apply through Other Employment Opportunities for full-time employment or Part-Time/Internship Opportunities for a part-time position or internship.
Applicants have rights under Federal Employment Laws.
Equal Employment Opportunity | Employee Polygraph Protection Act | Family Medical Leave Act
KEMI's competitive total compensation package supports equity and upholds a culture of work-life balance. Check out some of the KEMI diverse and inclusive benefits offered to demonstrate our commitment to the financial, mental, physical, and overall well-being of our employees and their families.
Work arrangements: on-site in Lexington or Louisville office, remote and hybrid
Work schedules: flexible options available
Volunteer Hours: 16 paid volunteer hours to serve schools and charitable organizations
Paid Time Off: 13 days of vacation, two personal days, and two floating holidays during the first year of employment
Holidays: 12 paid holidays, including Juneteenth
Employee Incentive Plan: awarded upon achievement of company and employee goals
Retirement: competitive matching retirement plan provided at hire with additional voluntary contributions available
Health Insurance: two low-cost plans offered with wellness incentives for premium discounts and four levels of coverage – employee, employee + children, employee + spouse, and family. Free telemedicine offered for physical and behavioral health and a free weight-loss program included.
Through UnitedHealthcare, UMR and HealthSCOPE Benefits creates and publishes the Machine-Readable Files on behalf of KEMI
beWell@KEMI: voluntary wellbeing program, including on-site health fair and flu shots, walking challenges, participation rewards, and fitness reimbursement
Gym memberships: discounted plans and payroll deductions available
Vision insurance: employee coverage provided at no cost and dependent coverage available
Life Insurance: two times annual salary provided at no cost to the employee, with voluntary and family coverage offered
Short and long-term disability: provided for mental and physical conditions at no employee cost
Flexible Spending Accounts: offered for healthcare and dependent care
Critical Illness Insurance: employee and family coverage available
Accident Insurance: employee and family coverage available
Dental: two options available for employee and dependents
Identity theft protection: discounted options offered for employees and family members
KEMI Star Award: quarterly employee award nominated and selected by employees
Ergonomics: evaluations by our Safety & Loss Control experts, with ergonomic chairs provided
Dress code: "dress for your day"
Covered parking: free at the Lexington office
VIEW CURRENT OPPORTUNITIES